Our Motivational Projects
About Us
The name of the organization (ALAMB) reflects its strategic approach of leading the people towards autonomy, i.e., ALAMB means self sufficiency. True to its name the organization made a very humble commencement and interacts with the people living in urban slums and j.j.colony. Consequently, the amorphous community started to intermingle. The approach of Alamb have now touched upon lives of more than 200,000 people over a duration of 30 years by taking need based initiatives with the active participation of the community valuing their knowledge and support.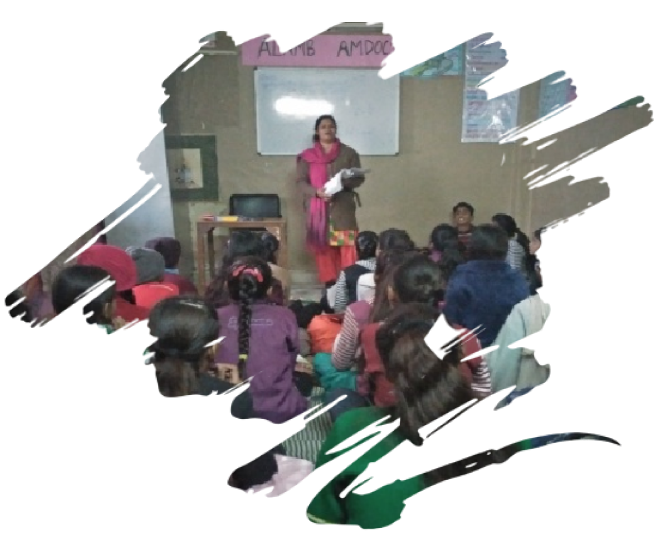 Our Vision
"A society with equality and social justice having its own means of sustenance and development" was formed on 1st October, 1992. ALAMB is now working with the people of four districts of Delhi with a plan to expand its activities in more areas in due course of time in the Indian region in general and Delhi in particular.
Our Mission
"Empowering the socio-economically deprived sections of society towards their self sustenance, motivating them for collective action by developing autonomous social structures through need based program interventions".
Achievement
Alamb have reached out over 200000 population and about 10700 children, 4000 women and youth directly through education, sponsorship and community groups, skill training in Delhi slum communities.
Alamb has reached out to about 22000 children through Govt. school intervention programme to improve quality of education through different activities like balsadan, bala paintings, hand wash, sanitation, safe drinking water, ICT, Library development, Aganwadi center development activities, School Management Committee training. Till 2021, 4326 boys and girls( 272 boys and 4054 girls ) were trained in skill training – C & T, Beautician and Computer education.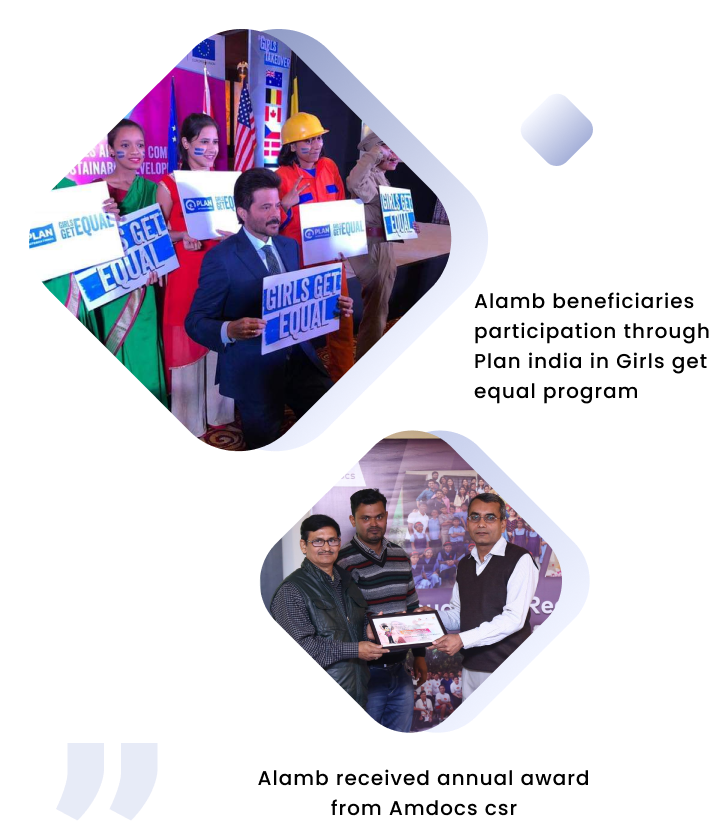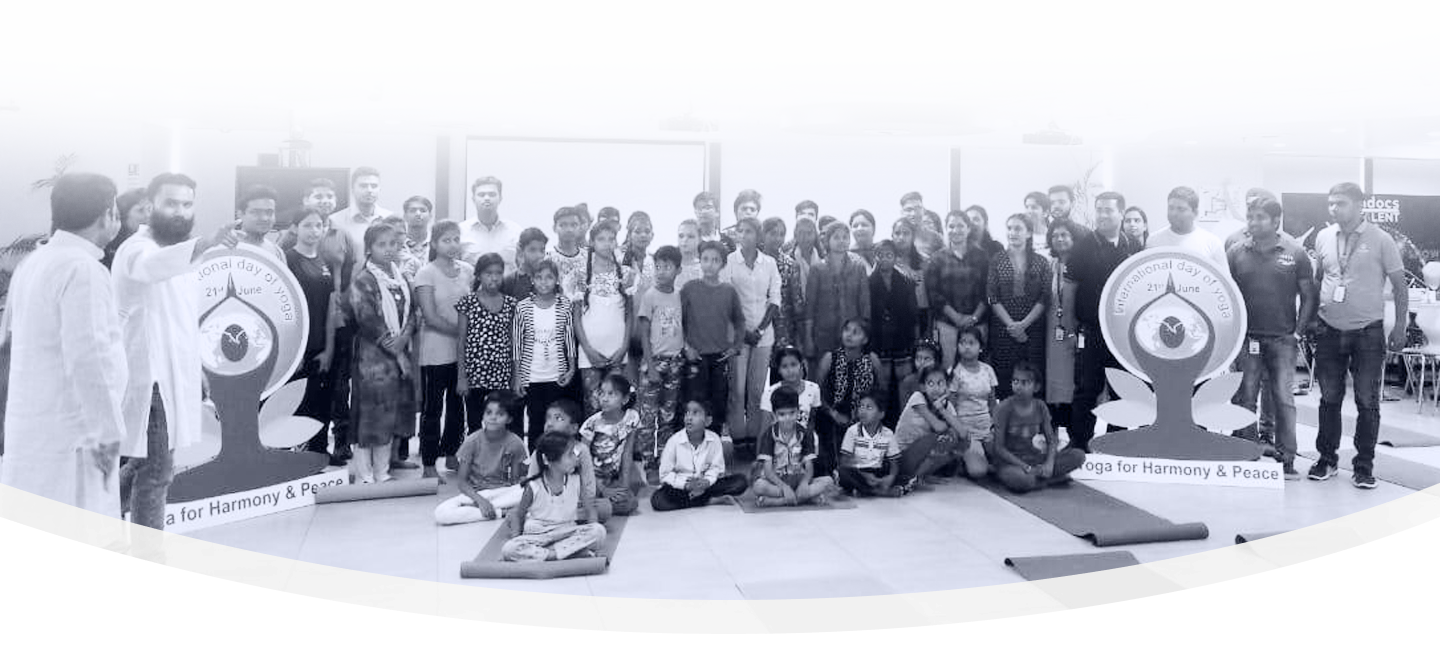 Youth Empowerment
Child Centered Community Development
Women Empowerment
Awareness
Progress Report - Covid 19 Awareness
Vibha supported for ration distribution to 50 families in May 2021 at Om Vihar phase 5 and Shiv Vihar.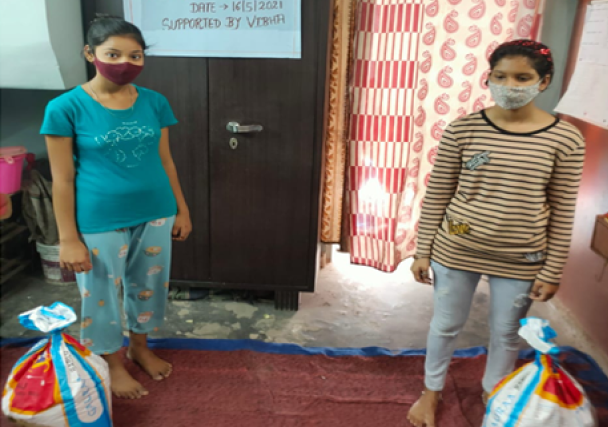 50 Nuitrion kits were distributed to 50 families in July 2021 at Om Vihar phase 5 and Shiv Vihar supported by Neev network ( Delhi Forces). 50 families were selected on the basis of their need. Due to lockdown these families have lost their jobs. These families are migrant. Members of family are involved in vending, hacking, construction work and labor work, rickshaw puling.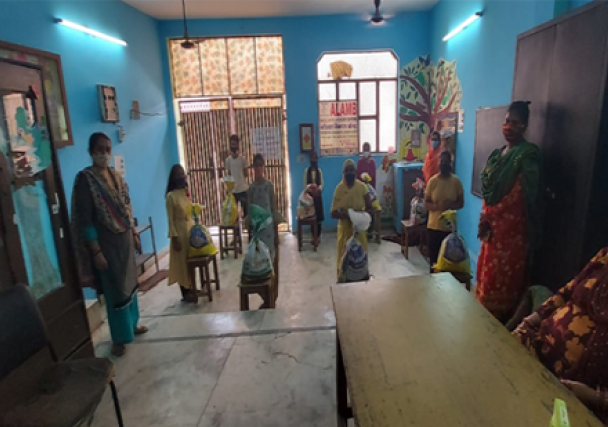 Staff made aware about Covid 19 at Alamb Skill Development Center to the students and parent. They also motivated them one by one about vaccination. They spread awareness about washing hands when students /parent inter in center. Staff did it practically in center. Staff also made aware about social distancing, and wearing mask. Community people were also advised about not to go in crowded place. They should stay at home during lockdown.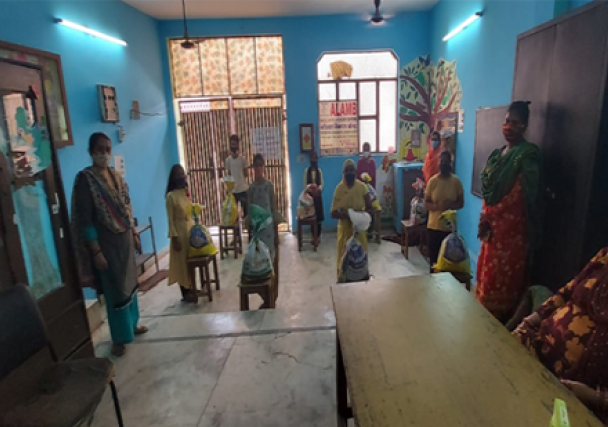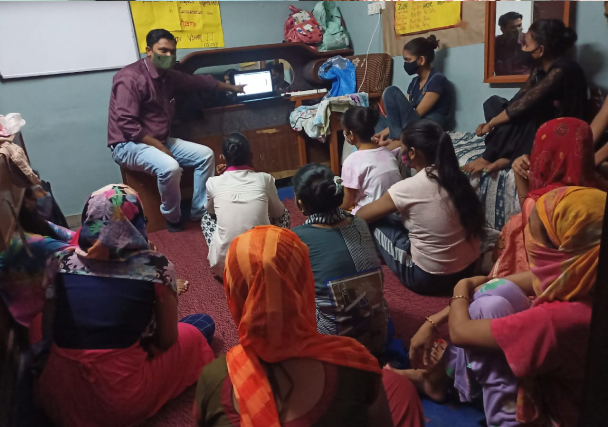 Ration kit were distributed maintaining social distancing and wearing mask to students/parent. 5,6 Parent/students came in group and received ration. They came turn by turn. Total 50 family received ration kit. The following items were distributed in a packet to one family: Rice 10kg, Dal 2 kg, oil 1 kg, sugar 1kg, Haldi powder 250gm, salt 1 kg, and sanitizer 1, Mask 2 etc. Details of budget:
ALAMB Non-Profit Organization that aims to advance children's rights and equality for girls, thus creating a lasting impact in the lives of vulnerable and excluded children, their families, and communities.
Since 1992, ALAMB has improved the lives of underprivileged by providing them access to quality education & healthcare services, a healthy & secure environment, livelihood opportunities, and participation in important life decisions.